Let's Build Our Short Food Supply Chain Event
March 2023
Networking and brokerage event for Irish food producers, businesses and support organisations.​
This is an opportunity for small Irish food businesses to get together and discuss collaborations. The event will include a few short talks from a number of speakers, as well as time for group discussions, networking and one-to-one meetings via the Brella platform. Register via Eventbrite.
Confirmed speakers so far:
Dr Jennifer Attard – The agroBRIDGES Project: Tools and Support for Small Food Businesses.
Ciara McDonagh – Teagasc supports for short food supply chains.
Sandra Regan – BIA Innovator Campus facilities and services available to short food supply chain businesses.
Martin Brosnan – Kerry Food Hub: Facilities and Services available to short food supply chain businesses.
Justina Gavin – Drumanilra Organic Farm and Kitchen: A farm's journey to local food service.
Seán Murphy – Murphy's Ice-Cream: Sourcing local ingredients for a local product​.
Following the event, the platform will remain open until 9:30pm for you to have the opportunity to book one-to-one meetings with the speakers and other participants.
This event is being organised by Munster Technological University (MTU) and Teagasc as part of the agrobridges.eu project.
THIS PROJECT HAS RECEIVED FUNDING FROM THE EUROPEAN UNION'S HORIZON 2020 RESEARCH AND INNOVATION PROGRAMME UNDER GRANT AGREEMENT N° 101000788.​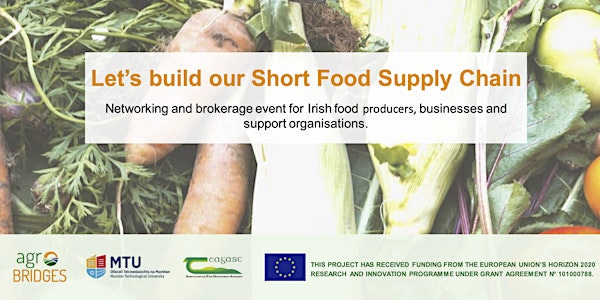 Contact Us to Learn More
For more information on the Savour Food programme and our waste reduction strategy please